Jesus In The Morning Cruise To Nassau
Bahamas
We were hoping to secure Dorothy Norwood for the May 26, 2011 Cruise to Nassau Bahamas. The booking agent we had has disappeared . Ms. Norwood called me to let me know she never spoke with any booking agent. I am so sorry about the misunderstanding. The devil is trying to sabotage my name, street ministry, and radio ministry.A female called Ms Norwood and gave my name and said she had a radio show and she was in New York. I am in Jacksonville, Florida. None the less God has it all in control.

YOU CAN PAY YOUR DEPOSIT AFTER DECEMBER 22, 2010

DO NOT FORGET YOUR PASSPORT FROM THE POST OFFICE...

Ordination Service
Will take place on the Jesus In The Morning Cruise May 27, 2011
All offices of ordination.
Minister

Pastor
Evangelist

Bishop
Apostle

Please contact Evangelist Mack 904 764-6852.
Please submit your letter of ordination request on the contact page. April is our month of consecration and a fast will be in order. The date of fast is not needed, keep this to yourself.

Gospel Talent needed for the Jesus In The Morning Cruise. Contact Sister Sandy at (877) 959-0800
Preachers

Singers
Choirs
Mimes
Praise Dancers

Musicians,
Poets
Whatever your talent

Contact Sister Sandy (877) 959-0800
Aboarding the Carnival Sensation Ship!

GROUP NAME: JESUS IN THE MORNING

(904) 764-6852



A FUN-FILLED SENSATIONAL CRUISE
FOR TWO or more ! !
Fun Fun Fun!!!
Come aboard the Sensation aboarding out of Port Canaveral . 4 Days and 3 Nights Nassau Bahamas Bound.

COME AND CRUISE TO NASSAU BAHAMAS WITH
FACEBOOK: BARBARA JEAN PITTMAN MACK, HOST OF
"JESUS IN THE MORNING BLOG TALK RADIO SHOW"





For more information join Jesus In The morning on blogtalkradio.com/freedom-doors-ministries

7am EST Blogtalkradio.com/freedom-doors-ministries Call in Mon - Fri 619-639-4609
Office: (904) 764-6852
Web: www.freedomdoorsministries.com
E-mail: thespiceonehot@yahoo.com@yahoo.com

4DAY 3 NIGHT ONLY CRUISE
THURSDAY, MAY 26TH , 2011
Ordination Service for preachers

Call (904) 764-6852

Vision This!
24 Hour Anointed Church Service .
Ordination Service for preacher

Saturday Night Anointed Talent.
Sunday An Anointed Prayer Breakfast.
Fellowship with many saints, exchanging phone numbers, email , and website addresses. Fun, Fun, and more Fun for 4 days and 3 nights.

Jesus In The Morning Nassau Bahamas
Carnival Group Booking
# 25WOQO

To book your cruise.

Call 1866-721-3225 Option 3

Mon - Fri 8:00 AM - 9:00 PM EST

Sat 9 :00 AM - 7:30 PM

Ship Name: Sensation Port Canaveral, Florida
Mrs.Gloria Sullivan leaving Jacksonville, Florida December 20. 2010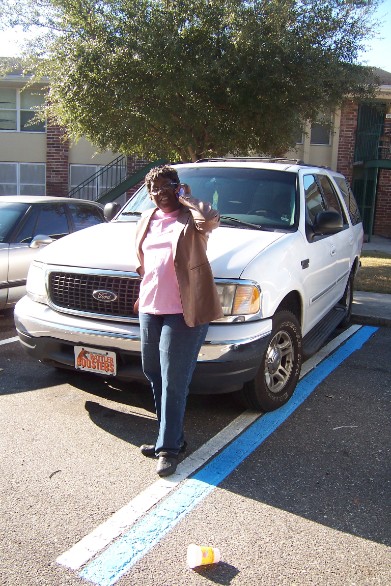 All musicians must register their equipment and instruments with US Customs .
Cruise Deposit of $100.00.

The more deposits are paid the faster I can secure a conference room for the services.

All Musicians that are bringing equipment aboard the ship please go to www.cbp.gov and check out the rules for customs to bring equipment aboard the ship. All equipment and instrucments must be registered with US Customs. This must be done two weeks before we sail.
New Cruise information .

To those who has been given a free cruise contact Barbara Mack and add your name to the sponsorship list ASAP. Plus if you were blessed to get the cruise free, please promote it and ask others to come with you on this Great Vacation. You want your family and friends to be blessed and be a part of this amazing move of God.


Jesus In The Morning Cruise Call Carnival 1866-721-3225 Option Number 3 Group #25WOQO to book your cruise for May 26, 2011

(904) 764-6852

Please contact your local post office to obtain a passport.

Cruise Information Carnival Cruise Group #25WOQO Call 1866-721-3225 Option 3 To book your cruise for May26, 2010
Jesus In The Morning Nassau Bahamas Cruise
Departing: Port Canaveral, Florida Thursday May 26, 2011 @4:00 pm

Friday Night May 27, 2011:

Formal Dinner at the Captains Table at 6:00 pm

9:00 pm Twenty Four Hour Church Service (speakers from around the world)
Saturday Night May 28, 2011:

Talent Night (soloist, musicians, poets, praise dancers, mimes, and more )
Sunday May 29, 2011:

Early Morning Prayer Breakfast 7:00 am
PAYMENT:

Deposit: $100.00 Each

Balance: March 28, 2010

If you need more time please contact me and the Agent Latoya will arrange for us to have more time.

Cruise
Outside Cabins: 4 D
$374.00 + tax $48.78 = 422.87
3rd, 4th, and 5th Person 169.00 + tax 48.87
Oceanview: 6B – D
$409.00 + tax 48.87 = 457.87
Rivera: Mid Decks
3rd and 4th Person 179.00 + tax 48.87 = 227.87
Balcony: 8A Decks
$594.00 +tax 48.87
3rd and 4th Person 239.00 + tax 48.87 = 287.87
Suites

Deck 11 Verandah Deck
$674.00 + tax 48.87
3rd Person 249.00 + tax 48.87 = +297.87
IF YOU NEED TO MAKE PAYMENTS CONTACT:
Carnival Cruise Group Booking # 25W0Q0 Call 1866-721-3225 Option 3 to book your cruise for May 26, 2010

Talent Needed: church service, talent night, and Early Morning Prayer Breakfast
Call:
Barbara Mack at (904) 764-6852




LETS PRAY FOR THOSE WHO WANT TO COME ABOARD BUT DO NOT THINK THEY CAN AFFORD IT.